Our farmers take care of 70 hectares of land that are transformed in hay and daily distributed to the animals.
The hay storage is also partly used as a store for the farm equipment. Corn and hay produced on land near the farm are mixed, and enriched by corn, meal and certain types of fodder in order to be distributed from the mixing truck every morning at 7.00 am.
Controls and checks on the feed begin in the countryside where certain agronomous techniques are used to ensure the structure and organic composition of the soil. Controls continue through checking the quality of the fodder and the way in which it is administered to the animals.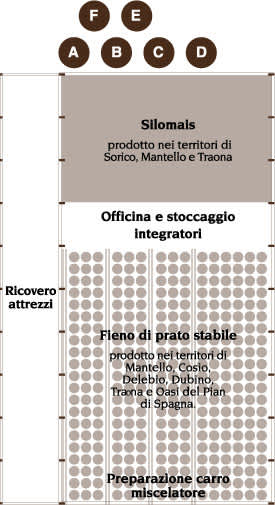 A – Maize meal
B – High protein fodder
C – Maize meal
D – Fibre-rich feed
Special fibre-rich feed for calves, post-weaning
E – Liquid feed
Feed for calves up to 90 days old
F- Pig feed
Feed mixed in with whey
THE GREENHOUSES
The two greenhouses, 32 m x 9 m  e 25 m x 7 m, are thought to allow us to cultivate even in winter.
The vegetables gardens are near the greenhouses and here, they grow nearly 15/20 different kind of vegetables.
THE GARDEN OF BERRIES 
In warm season, in our colorful berries' garden, grow blackberries, blueberries, currant and raspberries.
All of this small fruits are then used for our desserts or ice-cream.
HERBS GARDEN
In our herbs garden grow nearly 15/20 different kind of herbs that are used by chefs in our restaurant.