Dedicated to the great and loved Alpinist, in 2014 it has been inaugurated an itinerary that needs great training, but that guarantees an adventure through the most wild and fascinating valleys of our province, Sondrio.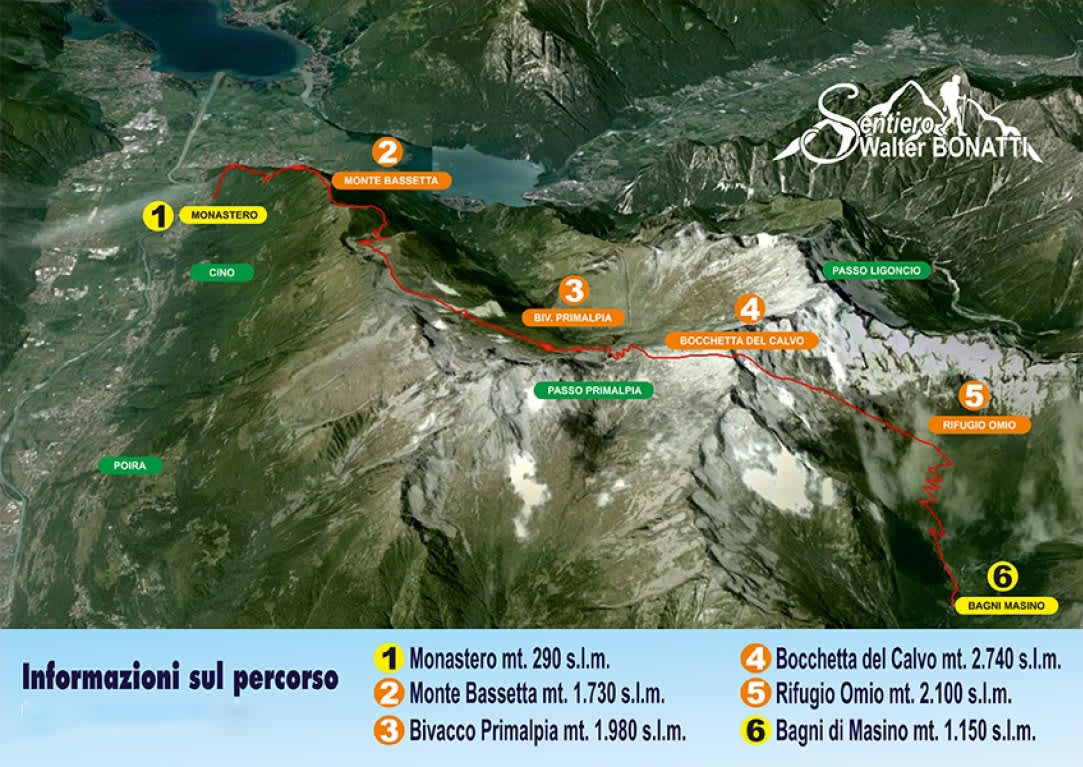 The pathway flows from Monastero di Dubino, where the monzese climber lived, right through to Bagni di Masino. A hardeous trekking task of almost 25km to complete in two days (with overnight stay at Bivacco Primalpia) or instead three days (with an additional night at Rifugio Omio) beginning right by the house of Walter, at Monastero di Dubino (290m). Going up the dorsal of Monte Bassetta above the Costiera dei Cech, uprising in the Valle dei Ratti, going up once again at Passo del Calvo (2740m) and finishing at Bagni di Masino (1172m) right after crossing the famous Sentiero Roma al Rifugio Omio.
The panorama above the Retiche Alps, the Orobie Alps, The Lepontine, Valchiavenna and Lake Como are breathtaking, making this pathway one of the most suggestive in the italian side of the occidental Retiche Alps.
Normally completed in 15-20 hour walk, according to the phisical preparation: this is why it's reccomended to do it in two days, with training and right equipment, standing by the weather conditions.
The Bonatti path is a fascinating excursion that reflects exactly how our beloved alpinist used to be, living in the shadow of these valleys and most of all it reflects the way he understood the mountain, in an adventorous way.
Do you wish to do it with an Alpine Guide? Ask our reception!