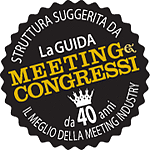 La Fiorida has three rooms available for Meetings and Conventions for businesses and other organisations seeking a private venue in the environment of a green oasis.
Accommodation is offered in Double rooms (available for single use), Junior Suites and larger Suites.
Meetings, seminars, workshops and company days of various sizes can be catered for in a tailor-made way, according to the needs and requirements of the clients.
Meeting rooms:
Sala La Colmen – up to 10 people;
Sala Pizzo dei Galli – up to 35 people;
Sala Legnone – up to 160 people.
Facilities available:
ADSL internet; Videoconferencing; Indoor and outdoor exhibition space ; coffee breaks, personalised with home-made pastries; bar; restaurant for corporate lunches, ordinary lunches and dinners, Gala evenings and cocktails; Multi-use room with piano bar; large external parking; chauffeur-driven 'Blue car service'; helicopter.
There is also La Fiorida Farm & Beauty SPA with its fitness room, heated pool, jacuzzi pool, sauna, vitarium (50 degrees) sauna, steam bath and showers to stimulate the senses. We all have an inner and instincitive wisdom which tells us when to take a break, take a breathe and relax. After a day of intense work, what about recalibrating your body and mind with a visit to spa? We also offer massages and hay, whey and milk baths.
Catering services for the Business Area
"Welcome to the Fiorida" with flutes of sparkling Prosecco wine and cold canapes.
'Aperitivo ricco' – aperitifs and finger food buffet
Open bar with snacks
Wine and Cheese party (one hour)
Coffee break with home-made pastries
Corporate lunch (3-course menu)
Dinner, 4 course menu
Gala dinner, 11 courses and tasters